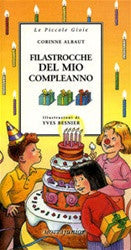 Filastrocche il mio cumpleano (Italian)
---
by Corinne Albaut
Tutti attorno a un dolce, candeline e doni, parenti e amici cantano in coro "Buon Compleanno".
Una formula magica per festeggiare un avvenimento molto importante: ho un anno in pi ! Tante filastrocche divertenti e fantasiose per giocare con le rime e le parole. Un primo approccio alla poesia! All around a cake , candles and gifts , relatives and friends sing in chorus " Happy Birthday".
A magic formula to celebrate a very important event: I have one more year ! Many nursery rhymes for fun and imaginative play with rhymes and words . A first approach to poetry !
Ages 1-8; 64 Pages; Hardcover
---
Share this Product