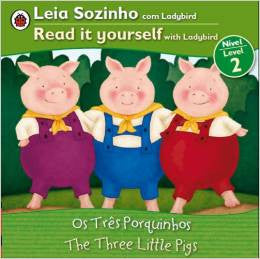 The Three Little Pigs-Leia Sozinho, level 2 (Portuguese-English)
Language
English
Portuguese
Descriptions
by Ladybird
Leia Sozinho,Read it yourself, is a series of classic, traditional tales, written in a simple way to give children a confident and successful start to reading.
Each book is carefully structured to include many high-frequency words that are vital for first reading. The sentences on each page are supported closely by pictures to help with reading, and to offer lively details to talk about.The books are graded into four levels that progressively introduce wider vocabulary and longer stories as a reader's ability grows.
Leia sozinho é uma série de contos de fadas clássicos e tradicionais, escritos de maneira simples para proporcionar às crianças autoconfiança e sucesso em seu início no mundo da leitura. Cada livro é estruturado cuidadosamente para incluir muitas palavras usadas com bastante frequência e que são essenciais para a primeira leitura. As frases em cada página são apoiadas por imagens detalhadas que ajudam na leitura e estimulam a conversa. 

Os livros são classificados em quatro níveis que apresentam progressivamente um vocabulário progressivamente mais amplo e histórias mais compridas à medida que a capacidade do leitor aumenta.
Ages 3-6; 32 Pages; Paperbook
---
Share this Product
---