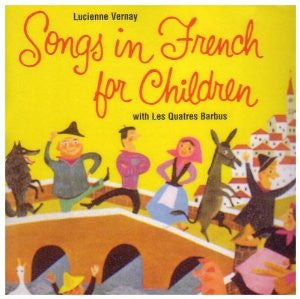 Songs in French for Children, audio CD (French)
Language
French
Descriptions
This is a lovely little French CD with songs in the style of 1950's Disney film scores, which are fun and charming.This CD is a re-release of a 50s record and includes lots of authentic French nursery rhymes and a few that are French versions of 'Old McDonald' and who's afraid of the big bad wolf?' The tunes are catchy and one pick ups more words each time he/she listen. It shouldn't be too hard to google the song titles ;to get ;the words for each nursery rhyme. There are ;websites that provide an English translation of the best-known songs too, which is always helpful.
"A great buy for anyone who wants to introduce French to children, and also for anyone who loves traditional, heart-warming French songs".
"The rhythms and words are very distinct and jolly. It is nice to hear french versions of english children's favourites."
Ages 2 and up; audio CD  (33 minutes)
---
Share this Product
---
---
More from this collection