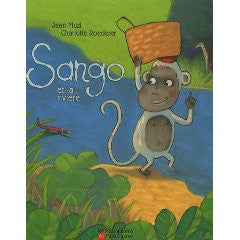 Sango et la riviere (French)
Language
French
Descriptions
by Jean Muzi and Charlotte Roederer (Authors)
It is the first time Sango is allowed to go visit his aunt by himself. When he gets to the river, a giraffe and a lizard are telling him how to cross it. Who should he listen to?
Pour la première fois, Sango le petit singe va tout seul chez sa tante. Au moment de traverser la rivière, une immense girafe et un petit lezard lui donnent des conseils. Qui doit-il ecouter?
Sango le petit singe doit aller seul chez sa tante qui habite de l'autre cote de la rivière. Au bord de la rive, il rencontre une girafe. Elle lui assure que l'eau n'est pas du tout profonde. Puis il rencontre un petit lezard qui lui deconseille de traverser, car l'eau est trop profonde. Sango, ne sachant qui croire, retourne demander conseil À sa maman. Elle va alors lui expliquer que rien ne vaut une expÉrience personnelle pour estimer les choses. Et Sango traversera seul la rivière. Il la trouvera ni trop profonde, car il est bien plus grand que le lezard, ni trop assechee... il est bien plus petit que la girafe.
Ages 5-9; 30 Pages; Paperback
---
Share this Product
---
---
More from this collection