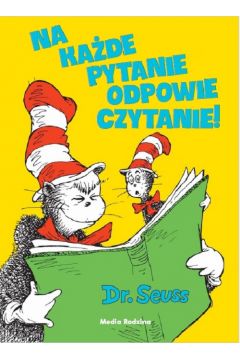 Na kazde pytanie odpowie czytanie - I Can Read With my Eyes Shut! (Polish-English)
---
by Dr Seuss
Is your head full of questions? If so, then you should know something - reading will answer every question! Books are an inexhaustible source of information. You can always find something new in them. From the book by Dr. Seuss, you can find out, among other things, why a rose smells, where a puddle comes from, and even what to do when an owl lands on your nose. Just interesting information. The book "Reading will answer every question!" was written and illustrated by Dr. Seuss, who was a master of children's books. The Polish version was translated by the Polish poet Stanisław Barańczak. Thanks to Kot Prot, children will find it easier to enter the world described in the book. The publication also includes the author's original text, so that young readers who are trying to learn English can experience the language in a pleasant way.
Czy w Twojej głowie roi się od pytań? Jeżeli tak, to powinieneś coś wiedzieć - na każde pytanie odpowie czytanie! Książki są niewyczerpanym źródłem informacji. Zawsze można w nich znaleźć coś nowego. Z książki dr. Seussa można się dowiedzieć między innymi, dlaczego pachnie róża, skąd bierze się kałuża, a nawet jak postępować, gdy na nosie usiądzie sowa. Same interesujące informacje.
Książeczka "Na każde pytanie odpowie czytanie!" została napisana, a także zilustrowana przez dr. Seussa, który był mistrzem w tworzeniu książek dla dzieci. Polska wersja powstała w przekładzie polskiego poety Stanisława Barańczaka. Dzięki Kotowi Protowi dzieci łatwiej wejdą w świat opisany w książce. W publikacji jest dostępny również oryginalny tekst autora, aby młodzi czytelnicy, którzy próbują uczyć się języka angielskiego, mogli obcować w przyjemny sposób z tym językiem.
Ages 4-8; 48 Pages; Hardcover (20x27.5 cm)
---
Share this Product
---
More from this collection