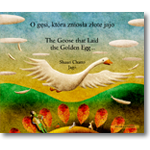 Bilingual Arabic Children's Book: Goose Fables (Arabic-English)
---
Aesop fable re-told by Shaun Chatto
The Goose that laid the Golden Egg & The Tortoise and the Geese .
Two well known fables in one book wittily retold by Shaun Chatto and gloriously illustrated by Jago.
Aesop's The Goose that Laid the Golden Egg, set in a Europe of times gone by, explores humankind's greed. By contrast in the Buddhist Tortoise and the Geese can the tortoise stop talking long enough to fly south with his friends the Geese Brothers?
ages 4-8; 32 Pages; Paperback
---
Share this Product
---
More from this collection