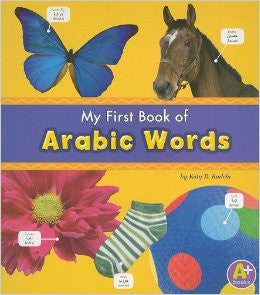 Arabic Words Children's Book; My First Book of Arabic Words (bilingual dictionary)
Language
Arabic
English
Descriptions
by Kathy R. Kudela
How do you say hello in Arabic? Explore the pages of this Arabic English picture dictionary to learn new words and phrases. Colorful photographs and simple labels make learning Arabic easy.
As the title of the book indicates, it is the first book of Arabic words for learn many objects names that is found in a house. It is a fun little book in English and Arabic to encourage non-Arabic speakers, especially kids to go around their houses and learn many of objects names in Arabic in fun (game likeway)as a confidence builder to encourage them to start learning Arabic. The book assigned each word with a picture and the object name is provided in both English and Arabic.
"The number one reason I really like this book is because along with the picture, English word and Arabic word, there is phonetic (English) pronunciation of the word. So if you do not read Arabic, you can still learn what the Arabic word is."
Ages 5 and up; 32 Pages; Paperback (9.25 x 0.31 x 10.25 inch)
---
Share this Product
---
---
More from this collection