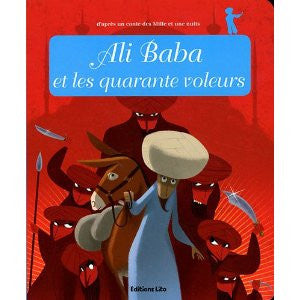 Ali Baba et les 40 Voleurs-minicontes classiques (French)
---
by Anne Royer (Author); Sebastian Pelon (Illustrations)
"There was once a poor woodcutter named Ali Baba. One day he was working in the forest, he saw galloping toward him a troop of forty horsemen who looked scary. Thinking they might be robbers, he thought it will be more prudent for him to hide behind a tree, where he saw them unloading large bags in front of a huge rock."
Il etait une fois... les grands classiques de notre enfance, contes, histoires ou legendes. Parce que petit, on grandit avec ces contes merveilleux et inquietants ; parce que plus grand, on rajeunit en les partageant avec nos enfants... Trop d'enfants, aujourd'hui, ne connaissent plus les contes classiques. Ces contes qui, pourtant, aident a grandir;  enrichissent l'imaginaire de mille et une creatures, fees, princesses ou dragons, apportent a la vie une morale pleine d'humour o les mechants punis et les plus petits recompenses.
Des contes qui donnent envie d'apprendre a lire et plus tard de raconter, transmettre l'histoire aux enfants ! Pour faciliter l'accès a cette formidable richesse de la littÉrature jeunesse, voila une collection a petit prix, avec des histoires magnifiquement illustrees et surtout des textes, adaptes aux jeunes, qui ont su garder l'impertinence, l'ambiance si particulières des contes de fees...
Ages 4-8; 12 Pages; Paperback
---
Share this Product
---
More from this collection