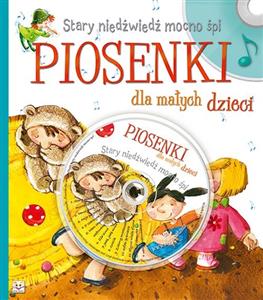 Stary Niedzwiedz Mocno Spi - Piosenki dla malych dzieci (Polish)
---
by Opracowanie zbiorowe
A collection of the most popular songs for children along with a CD Songs for children known and liked by generations, which are perfect for making music together. Readable sheet music is suitable for learning to play musical instruments.
Zbiór najpopularniejszych piosenek dla dzieci wraz z płytą CD
Znane i lubiane przez pokolenia piosenki dla dzieci, które sprawdzają się przy wspólnym muzykowaniu. Czytelny zapis nutowy nadaje się do nauki gry na instrumentach. 
Songs included:
Stary niedźwiedź mocno śpi,    Panie Janie,   Moja Ulijanko,   O czarnym baranie,    Mam husteczkę haftowaną,    Zła zima,    Jadą, jadą misie,    Grozik,    Zielony mosteczek,    Kółko graniaste,     Płynie Wisła, płynie,    Siwa chmurka 
Ages 0-5; 24 Pages; Paperback (21.0x24.0 cm) + CD
---
Share this Product
---
More from this collection