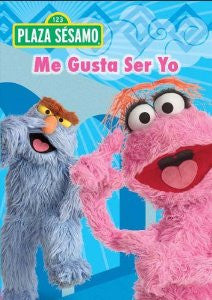 Plaza Sesamo: Me Gusta Ser Yo (2005), DVD (Spanish)
---
by Leticia Amezcua & Gerardo Zardain (Actors); Natasha Lance Rogoff (Director)
Me Gusta Ser Yo – I Like Being Me Nuevos episodios creados con base en la imagen y reputaci on de Sesame Street, un lugar confiable y alegre donde los ni os preescolares aprenden cosas basicas. Me Gusta Ser Yo lleva a los ni os en un recorrido por algunas partes del cuerpo…los ojos, la nariz, las orejas. ¡Que divertido! Lola hace su debut en las actividades con los ni os y los personajes favoritos de Plaza Sesamo: Abelardo, Elmo, Beto y Enrique.
"My daughter is two and she loves this video. She imitates everything while she is watching it and he laughs a lot. I wish they will have more Elmo or new version of sesame street in Spanish."
Ages 1-6; DVD 60 minutes.
Format: Color, Full Screen, NTSC, Region 1 (US and Canada)
---
Share this Product
---
More from this collection