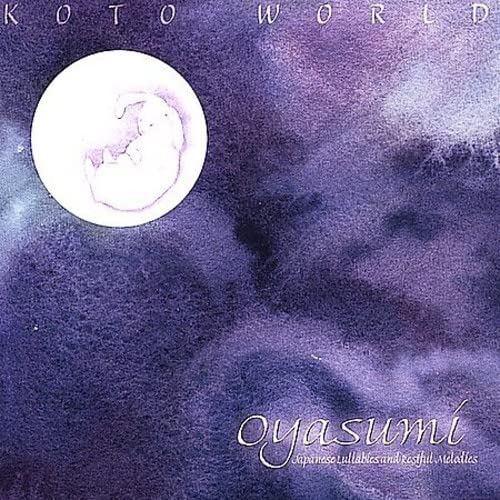 Oyasumi - Goodnight, Japanese Children's Lullabies, CD
---
Aiko Shimada is a Seattle-based guitarist/singer/songwriter, and frequently performs with her five-piece band. Parents' Choice Award winner Elizabeth Falconer after 12 years of residency in Japan moved back to the states to perform, teach, and compose. This is Aiko and Elizabeth's first collaboration, and they hope that you the listener experiences at least a part of the nurturing, calming effect that they felt as they played the music.
"This exquisite album can carry listeners of any age to a place of quiet and enfolding peace." -- 
Parents' Choice Review, Fall 2001
The CD includes: 
Oborozuki yo (Dreamy Moonlight Light);  Furusato (My Heart;s Home); 
Sakura, Sakura (Cherry Blossom);  Momiji (Scarlet Leaves); 
Takeda no Komoriuta (Takeda Lullaby);  Aikp Lullaby;  Aka Tonbo (Red Dragonfly); 
Aogeba Tosohi (Song of Gratitude);  Umi (Vast Ocean); 
Mimura nu Angwa (Girls from Three Villages);  Hatsu Yuki (First Snow); 
Kirakira Boshi (Twinkle, Twinkle Little Star);  Hama Chidori (Plovers on the Shore);
Hogomoro no Komoriuta (Okinawan Lullaby);  Komoriuta (Japanese Lullaby);
Oyasumi (Goodnight).

Ages 0-up, CD (
5 x 5.75 x 0.5 inch)
---
Share this Product
---
More from this collection