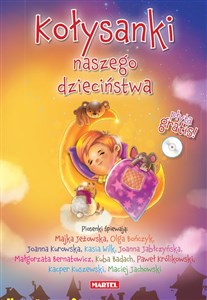 Kolysanki naszego dziecinstwa - Lullabies from our childhood, book & CD (Polish)
---
Opracowanie zbiorowe
In our booklet, we have collected the texts of the most popular lullabies by distinguished authors of children's poetry, including Janina Porazińska, Maria Konopnicka and Ewa Szemburg-Zarembina. Beautiful and colorful illustrations will help children move into the world of dreamy fantasies, where elves dance among the grass, stars twinkle merrily from the sky, clouds go to sleep, and flickering sparks tell children fairy tales.
W naszej książeczce zebraliśmy teksty najpopularniejszych kołysanek zasłużonych twórców poezji dziecięcej, m.in. Janiny Porazińskiej, Marii Konopnickiej czy Ewy Szemburg-Zarembiny. 
Piękne i kolorowe ilustracje pomogą maluchom przenieść się w świat sennych fantazji, gdzie wśród traw tańcują skrzaty, gwiazdki mrugają wesoło z nieba, obłoczki kładą się spać, a migotliwe iskierki opowiadają dzieciom bajki.
Do śpiewnika dołączamy płytę CD z przepięknymi nagraniami kołysanek w wykonaniu Majki Jeżowskiej, Olgi Bończyk, Joanny Kurowskiej, Kasi Wilk, Joanny Jabłczyńskiej, Małgorzaty Bernatowicz, Kuby Badacha, Pawła Królikowskiego, Kacpra Kuszewskiego i Macieja Jachowskiego.
Ages 0-8; 52 Pages; Hardcover (21.6x30.0 cm) + CD
---
Share this Product
---
More from this collection