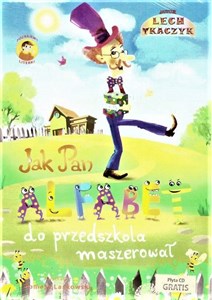 Jak pan Alfabet do Przedszkola Maszerowal -How mr Alphabet went to school, Book+CD (Polish)
---
Lech Tkaczyk and Tomasz Laskowski
The authors offers you educational book, written in a light, playful language that is easy for the youngest to understand. Each story teaches the little person basic activities and concepts in a fun and enjoyable way. Using a simple repetition technique, the toddler will quickly learn letters by himself, arrange them alphabetically in the right order, build simple words and then sentences from the letters.
Bajka edukacyjna ze słuchowiskiem na płycie audio CD.

Autor proponuje Państwu wierszowane książki edukacyjne, napisane lekkim, żartobliwym językiem, łatwym do zrozumienia przez najmłodszych. Każda historyjka w zabawny i przyjemny sposób uczy małego człowieka podstawowych czynności i pojęć. Za pomocą prostej techniki powtarzania, maluch w krótkim czasie zacznie sam uczyć się literek, układać je alfabetycznie w odpowiedniej kolejności, budować z literek proste słowa, a potem zdania. Barwne, niezwykle starannie wykonane ilustracje pobudzą wyobraźnię, dzięki czemu nauka stanie się zabawą, a zabawa nauką. 
Ages 3-7; 48 Pages; Papeback (30.0x21.5 cm)+ CD
---
Share this Product
---
More from this collection