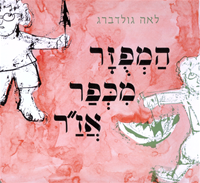 Ha'Mefuzar miKfar Azar - The Scatterbrained from the Azar village (Hebrew)
---
by Leah Goldberg
The story of a confused man from Kfar Azar,

  

who travels by bus, and then by train to the city

,

 

is a children's book

 

written and illustrated by Leah Goldberg.
 Today the book has become a classic of Israeli children's literature. 
The adventures of this scatterbrained man have been with the children of Israel for nearly eighty years.

 

The story has undergone many incarnations and is a wonderful example of a literary work whose taste has not expired despite the many years since it has been written.

 

...
Ages 3-6; 26 Pages; Paperback
---
Share this Product