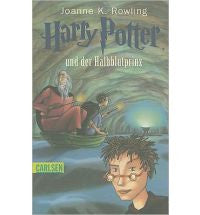 H. Potter in German: Harry Potter Und Der Halbblutprinz (German)
Language
German
Descriptions
by J.K.Rowling


Harry Potter and the half-blood prince: the sixth book in the Harry Potter series translated into German. 




The Half Blood Price picks up directly where the Order of the Phoenix picks up and now, more than ever, feels like a piece of a bigger story rather than a stand-alone tale. The first 4 Harry Potter books did provide some direction as to where the overall story was going but were far more self contained. 

In the midst of a battle of good and evil, Harry Potter and the Half-Blood Prince takes up the story of Harry Potter's sixth year at Hogwarts School of Witchcraft and Wizardry, with Voldemort's power and followers increasing day by day ...
Ages 8 and up; 655 Pages; Paperback
---
Share this Product
---