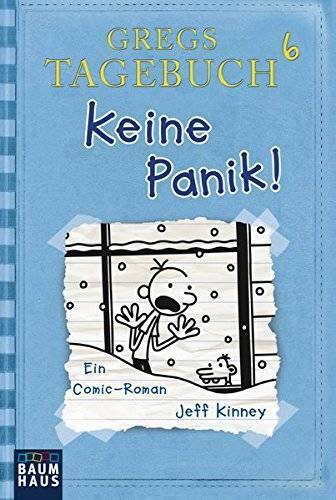 Gregs Tagebuch 6: Keine Panik!-Diary of the Wimpy Kid: Don't panic! (German)
Language
German
Descriptions
by Jeff Kenney
Christmas is just around the corner - actually wonderful prospects. But not for Greg, it's too much pressure for him. After all, you always have to behave extra well in the run-up to Christmas. Especially since his mother took out that creepy doll that spies for Santa Claus and that keeps crouching elsewhere and watching Greg ... To make matters worse, the Heffleys are then surprised by a snow storm and snowed in. So the family stays trapped in the house. The power goes out, food is running out, and everyone is pissing themselves off ... The question arises: Is there a worse punishment than being locked up with your own family? It means: keep your nerve. Do not panic!
Weihnachten steht vor der Tür - eigentlich doch wunderbare Aussichten. Aber nicht für Greg, dem ist das zu viel Druck. Schließlich muss man sich in der Vorweihnachtszeit immer extra gut benehmen. Besonders seit seine Mutter diese gruselige Puppe rausgeholt hat, die für den Weihnachtsmann spioniert, und die dauernd woanders hockt und Greg beobachtet ...
Zu allem Übel werden die Heffleys dann auch noch von einem Schneesturm überrascht und eingeschneit. So bleibt die Familie im Haus gefangen. Der Strom fällt aus, das Essen wird knapp, und alle gehen sich kräftig auf den Wecker ... Stellt sich die Frage: Gibt es eine schlimmere Strafe, als mit der eigenen Familie eingesperrt zu sein? Da heißt es: Nerven behalten. Nur keine Panik!
Ages 8 & up; 224 Pages; Paperbook (126 x 185 x 25mm)
---
Share this Product
---
---
More from this collection