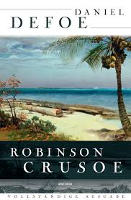 German Children's Book: Robinson Crusoe, complete edition (German)
---
by Daniel Defoe
Widely regarded as the first English novel, 

Robinson Crusoe

 is one of the most popular and influential adventure stories of all time. This classic tale of shipwreck and survival on an uninhabited island was an instant success when first published in 1719 and has inspired countless imitations. 

In his own words, Robinson Crusoe tells of the terrible storm that drowned all his shipmates and left him marooned on a deserted island. Forced to overcome despair, doubt, and self-pity, he struggles to create a life for himself in the wilderness. From practically nothing, Crusoe painstakingly learns how to make pottery, grow crops, domesticate livestock, and build a house. His many adventures are recounted in vivid detail, including a fierce battle with cannibals and his rescue of Friday, the man who becomes his trusted companion. 

Full of enchanting detail and daring heroics, 

Robinson Crusoe

 is a celebration of courage, patience, ingenuity, and hard work.
Ages 10 and up; 384 Pages; Hardcover 


---
Share this Product
---
More from this collection