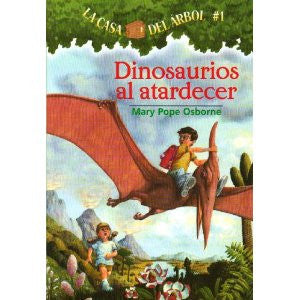 Dinosaurios al atardecer - Dinosaurs before dark (Spanish)
Language
Spanish
Descriptions
by Mary Pope Osborne (Author); Sal Murdocca (Illustrations); Marcela Broveli (Translation)
With an entertaining blend of fact, farce, and fantasy, Osborne tells the story of Jack and his sister, Annie, who take a trip in a magic tree house and land in a time 65 million years ago. They find dinosaurs and volcanoes and adventure.
This enjoyable time-travel fantasy is a successful beginning chapter book. Jack and his younger sister find a tree house filled with books. When he wishes he could really see the Pteranodon pictured in one of them, it appears at the window. The children have been transported back to the Cretaceous period. They begin to explore and are soon threatened by a Tyrannosaurus. The Pteranodon comes to their rescue, and they figure out enough about the magic that carried them back in time to be able to use it to return home. There is plenty of suspense and magic here, and enough dinosaur information to please science buffs.
Jack y Annie viajan a traves del tiempo en su casa de rbol mgica y exploran la historia humana, viviendo aventura tras aventura. A los lectores les encantar este nÚmero lleno de suspense, en que Jack y Annie exploran los tiempos prehist oricos.
Ages 6-12; 68 Pages; Paperback
---
Share this Product
---
---
More from this collection