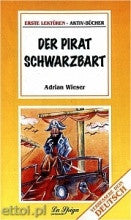 Der Pirat Schwartzbart - The Black-Beard Pirate (German)
Language
German
Descriptions
by Adrian Wieser
These books have a vocabulary of about 300 words. They are conceived and tested to encourage active reading: on the left, the reading part and on the right the active part. On each side are grammar games and activities to improve the studen'ts knowledge and test his own understanding of the story.
Schwartzbart

was a notorious English 

pirate
 who operated around the
West Indies
 and the eastern coast of the American Colonies in the early 1700's
, who caught the public imagination. 
Despite his ferocious reputation, there are no verified accounts of his ever having murdered or harmed those he held captive.
 He was romanticised after his death and became the inspiration for a number of pirate-themed works of fiction across a range of genres.
Ages 6 and up; 31 pages; Paperback
---
Share this Product
---
---
More from this collection