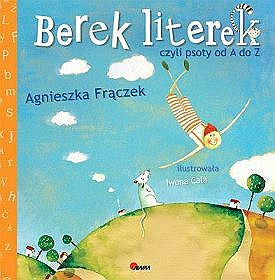 Berek literek czyli psoty od A do Z (Polish)
Language
Polish
Descriptions
by Agnieszka Fraczek; Iwona Cala (Illustrations)
Alphabetical acrobatics is an area in which Agnieszka Fraczek has no equal. She creates a world full of surprises for the reader: where bulls roam in blueberries, Hyena Henia casually in Chelma lists helma fleas, a rat lizard sits under a cloud, and the umbrella is very smoothly splashing from the rain directly into the gutter. Frisky letters, dictated by the author, create a route straight to the world of imagination. 
Ac

robacje to dziedzina, w ktorej Agnieszka Fraczek nie ma sobie 

rownych. Zongluje slowami i znaczeniami lekko i finezyjnie, a przede wszystkim zabawnie. Stwarza dla czytelnika  swiat pelen niespodzianek: gdzie byki bycza sie  w borowkach, Hiena Henia od niechcenia w Chelmie helmy z pchla wymienia, jaszczurka ze szczurka siedza pod chmurka,  a pan parasol bardzo plynnie z deszczu pryska wprost pod rynne. Rozbrykane litery pod dyktando autorki tworza szlak wprost do swiata wyobrazni. Ksiazeczka "Berek literek czyli psoty od A do Z" to nie tylko  pelne humoru teksty Agnieszki Fraczek, ale takze piekne ilustracje Iwony Calej.
Ages 3-8; 60 Pages; Hardcover
---
Share this Product
---
---
More from this collection