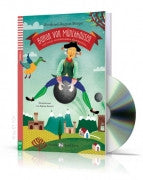 Baron von Munchhausen, Book+CD (German)
---
Gottfried August Burger (Author); Agnesse Baruzzi (Illustrations)
This book has a vocabulary of about 600 words. This series of readers was conceived and tested to encourage active reading.  In the end of each chapter is After Reading Activities  to ease the comprehension  and a Pre-Reading Activities section to teach the vocabulary and structures of the subsequesnt chapter.  The Test Yourself  section includes activities involving the whole story . 
About the book: 


Friedrich von Munchhausen was a German nobleman living in 1700's, and a famous recounter of 

tall tales

. He joined the 

Russian military

 and took part in two campaigns against the 

Ottoman Turks

. Upon returning home, Münchhausen is said to have told a number of outrageously farfetched stories about his adventures. His 

reputation as a 

storyteller

 has been exaggerated by writers, giving birth to a fully fictionalized 

literary character

 usually called simply Baron Munchhausen.




The stories of the the Lying Baron Munchausen are incredibly drawn-fetched, exaggerated and outrageous.  

The daring trip to Russia, the fabled ride on a cannonball, the trip to the moon, the balloon ride, the voyage, the sea monster, and many other stories give a great and fast ride with the Baron through his life. 

A pleasure to read, it's a must for any nursery!
Ages 4 and up; 80 Pages; Paperback + CD
---
Share this Product