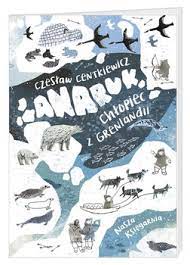 Anaruk, chopiec z Grenlandii - Anaruk, the boy from Greenland (Polish)
---
by Czeslaw Centkiewicz
"Anaruk, a boy from Greenland" is a book presenting the life of a twelve-year-old Eskimo, born in a frozen land of ice and snow. Anaruk's everyday life is very different from what every teenager knows. It includes not only hunting for polar bears, seals or reindeer, but also hard work that both adults and children undertake every day. The life of a little Eskimo is not easy, but despite all the difficulties, the boy gives his best, diligently learning the skills necessary to survive in frosty conditions.

The book about a young Eskimo has been written in simple language that any young reader can easily understand.
"Anaruk, chłopiec z Grenlandii" to książka przedstawiająca życie dwunastoletniego Eskimosa, urodzonego w mroźnej krainie lodu i śniegu. Codzienność Anaruka znacznie różni się od tej, jaką dobrze zna każdy nastolatek. Należą do niej nie tylko polowania na niedźwiedzie polarne, foki czy reny, ale również ciężka praca, której każdego dnia podejmują się zarówno dorośli, jak i dzieci. Życie małego Eskimosa nie jest łatwe, jednak mimo wszelkich trudności chłopiec daje z siebie wszystko, pilnie ucząc się umiejętności niezbędnych do przetrwania w mroźnych warunkach. 

Książka o młodym Eskimosie została napisana prostym językiem, który łatwo zrozumie każdy młody Czytelnik. Autor tej fascynującej opowieści zdradza szczegóły życia mieszkańców Grenlandii, a także ich zwyczajów i tradycji.
Ages 8-12; 48 Pages; Paperback 
---
Share this Product
---
More from this collection