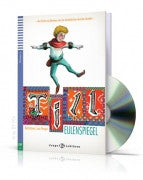 Till Eulenspiegel , Book+CD (German)
Language
German
Descriptions
by Marion Mohr (Author); Lucia Peruguni (Illustrations)
The 

books of  this series have a vocabulary of 600/1000 words. They are structured to encourage active reading, with the story on the left-hans page and the activities on the right hand page.

 In the end of each chapter is After Reading Activities  to ease the comprehension  and a Pre-Reading Activities section to teach the vocabulary and structures of the subsequesnt chapter.  The Test Yourself  section includes activities involving the whole story .
Till Aulenspiegel, is a trickster figure from the  Middle Ages. In stories and fables he is presented as a 

trickster

 embodying an implicitly higher consciousness who plays practical jokes on his contemporaries, exposing vices at every turn, greed and folly, hypocrisy and foolishness.  
Ages 6 and up; 64 Pages; Paperback (

14.9 x 0.6 x 21.1 cm) + CD
---
Share this Product
---
---
More from this collection