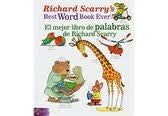 Richard Scarry's Best Word Book Ever - El mejor libro de palabras de Richard Scarry (Spanish-English)
---
by Richard Scarry
A bilingual vocabulary book features hundreds of vocabulary words arranged by themes, with labeled objects and actions common to the experiences of young children.; Richard Scarry is one of the world's best-loved children's authors EVER! His books are always filled with fun, and always filled with fun pictures;which children can pour over again and again and again. His books have sold many millions of copies around the world, and are currently published in over twenty languages.
"My 21 month old is being raised speaking both Spanish and English and is enjoying going through this book. He enjoys it at night before bed."
"This book is just as much fun as I remember, and it's a plus that it helps in the development of kids bilingual reading comprehension".
Ages 3 -12; 32 Pages; Paperbook
---
Share this Product