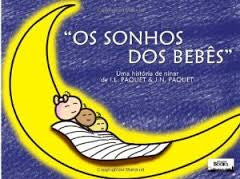 Os sonhos dos bebes (Portuguese)
---
by IL Paquet (Author); JNPaquet (Illustration)

Poderia, algum dia, haver o livro infantil mais fofo de todos?  





Could someday be this book the cutest children's book of all? 

This is the story of three babies dreaming. About what they dream? That are playing on the beach? Flying like a bird? Listening to music and dancing? Sucking? Playing with animals? ... A sweet and fun bedtime story for children 0-4 years. 
The illustrations were made ​​by children's author JN PAQUET (the same author of the series "The Book of Animals" and "The T-RRÍVEL") and the text was created and written by his daughter PAQUET IL (who illustrated all the books in the series " I love it! ")





Ages 0-4; 

26 Pages; 

Paperback
---
Share this Product