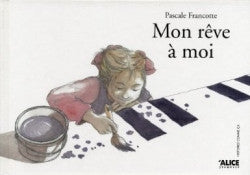 Mon reve a moi - My very own dream (French)
Language
French
Descriptions
by 
Pascale Francotte
When I grow up I will be... a writer? an engineer? an artist? a judge? a doctor? or what my parents want me to be so long as it is also what I want to be...
Who will decide? it will be ME!
When I grow up, I will be.....just me, like Daddy and like Mommy.
Plus tard, je serai... Ecrivain? Ingénieur? Artiste? Juge ? Docteur ? Ce que maman et papa rêvent que je sois ? 
Pourquoi pas, si c'est mon rêve à moi... Qui décidera ? 
Ce sera moi !

Plus tard, je serai... qui je suis. Comme maman, comme papa.
This book is hardcover, large format.
Ages 5-8; 26 Pages; Hardcover
---
Share this Product
---
---
More from this collection