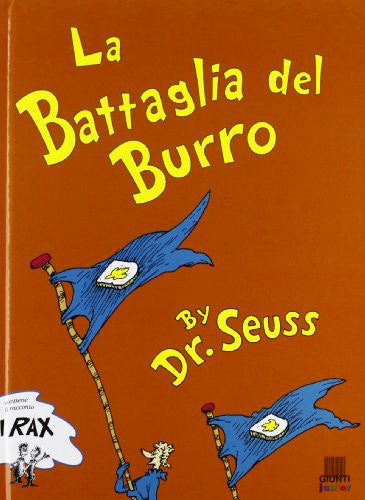 Dr Seuss in Italian: La Battaglia del burro - The Butter Battle (Italian)
---
by dr Seuss
This is a rhyming story written by dr Seuss.
It tells the story of a land where two hostile cultures, the Yooks and the Zooks, live on opposite sides of a long curving wall, fairly similar to the;Berlin Wall. The Yooks wear blue clothes; the Zooks wear orange. The main dispute between the two cultures is that the Yooks eat their bread with the butter-side up, while the Zooks eat their bread with the butter-side down. The conflict between the two sides leads to an escalating;arms race, each competing to make bigger and better weapons to outdo the other, which results in the threat of ;mutual assured destruction.
"Un applauso alla traduttrice che è davvero bravissima non solo a combinare le rime ma anche a produrre assonanze e consonanze quando la rima manca."
Ages 3 and up; 56 Pages; Hardcover
---
Share this Product