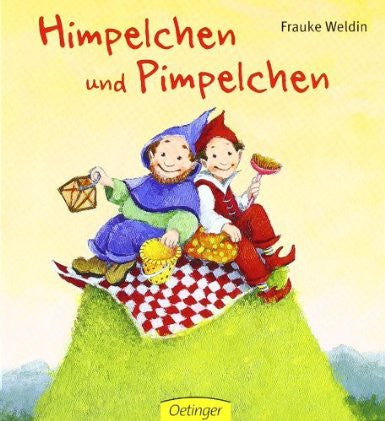 Himpelchen und Pimpelchen (German)
---
by Frauke Weldin
Sie wackeln mit den Zipefelmützen! Was machen Himpelchen und Pimpelchen? Sie klettern auf einen Berg und wackeln mit ihren Zipfelmützen bis sie einschlafen und laut schnarchen! Dabei machen alle Kinder gerne mit! Kinderreim-Klassiker mit Fingerspielanleitung.
"Dieses kleine Buch ist sowohl gefühlvoll als auch ausdrucksklar illustriert.




Seit Generationen ist dies Fingerspiel bekannt, nun haben die beiden Hauptfiguren Himpelchen und Pimpelchen entzückende aufgeweckte Gesichter erhalten und die Geschichte Gestalt angenommen. Kleine Kinder können sich wunderbar hineindenken. Großes Kompliment für die Umsetzung dieses alten Textes."
A big book of rhymes for young children!  All children love rhymes! And what could be more fun than repeating them over and over again. 

Ages 0-4; 16 Pages: Hardcover (

16 x 1.1 x 16.1 cm)
---
Share this Product
---
More from this collection