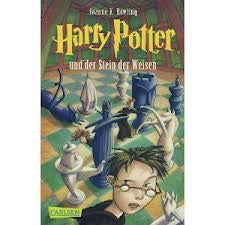 J.K. Rowling in German: Harry Potter und die Stein der Weisen German)
---
By J.K. Rowling
First Harry Potter book, translated into German.
We are delighted to offer a German version of the popular Harry Potter first book. Harry Potter is an ordinary boy. But when he turns 11 years old, a giant comes to take him to a school for sorcerers.
"This translation of Harry Potter pulled even this native speaker of English along almost as well as the original book, and I would recommend it for anyone who's had a couple of years of German as a skill and vocabulary builder."
Ages 8 & up; 335 pages; Paperback (

18.29 x 11.94 x 3.05 cm)
---
Share this Product