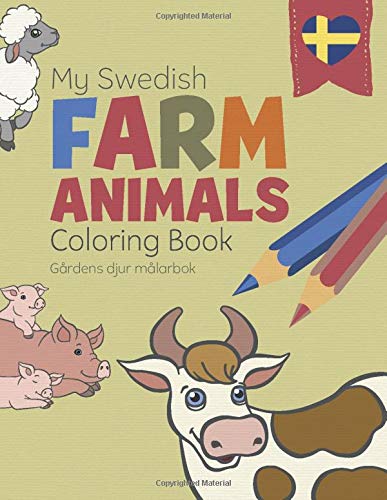 Gårdens djur målarbok - My Swedish Farm Animals Coloring Book (Swedish-English)
Language
English
Descriptions
by Linda Liebrand
Are your kids learning Swedish? This fun coloring book will introduce them to the Swedish names for some of our most loved farm animals. Linda Liebrand writes bilingual children's books specially developed for kids who learn Swedish abroad, so they can improve their vocabulary and connect with their roots. 
This book contains 27 fun images to color - covering everything from horses to cows, sheep and the farmer in his tractor and other farm scenes. Each image is clearly labelled in both Swedish and English so your kids can build their Swedish vocabulary.

There are cute pictures of animal families with the Swedish and English names for the mummy, daddy and baby animals.

At the end of the book, there's a fun quiz about the sounds that farm animals make in both languages.
Ages 2-7; 70 Pages; Paperback (8.5 x 0.16 x 11 inch) 
---
Share this Product
---
---
More from this collection