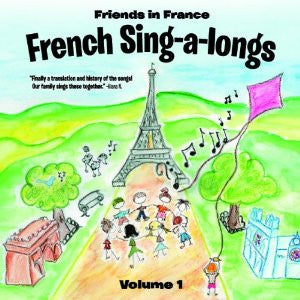 French Sing-A-Longs, CD (French)
---
Fun songs for kids and those wanting to learn French. Cute melodies and catchy tunes for the whole family to sing along. Highly recommend this for kids of all ages.
"Amazing cd, that every school in American can easily include in their language curriculum or use it for language exposure. It is easy to follow and kids and adults will learn French.......with this cd, its impossible not to learn French." ; Francophile USA Magazine
"Friends in France has been used by over 500 children, with a resounding-bravo! By using this method and learning French is easy and fun. It really is for the whole family.";
"Since we love singing in the car, I was thrilled to have the opportunity to review the Friends in France French Sing-a-longs. I love introducing my daughter to new languages and we've been working on some of her French language skills for a while. This CD is just another great avenue to immerse ourselves in the language for a little while."
Ages 1 and up; CD-7 songs
---
Share this Product