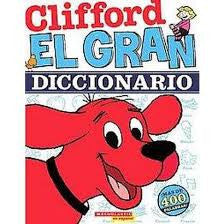 El gran diccionario de Clifford (Spanish)
---
The perfect back-to-school reference book for the early elementary set!
From Scholastic, the most trusted name in learning (R), comes this picture dictionary featuring America's favorite big red dog, Clifford!
The 128-page dictionary has:
* Alphabetical entries, each illustrated with spot art.
* Simple sentences beneath each word to help describe it and put it in context.
* Frontmatter and backmatter, which includes sections on how to use a dictionary, numbers & colors, opposites, the body, things that go, etc.
¡Scholastic en español y Clifford, el gran perro colorado, se enorgullecen en presentar un diccionario ilustrado!
El diccionario, de 128 páginas, contiene:
* Palabras en orden alfabético.
* Una ilustración de Clifford por cada palabra que aparece en el diccionario.
* Oraciones sencillas debajo de cada palabra que ayudan a explicar el significado.
*Secciones que explican cómo usar un diccionario, conceptos básicos como los números, los colores y los opuestos y mucho más.
Ages 3-10; 128 Pages; Hardcover
---
Share this Product