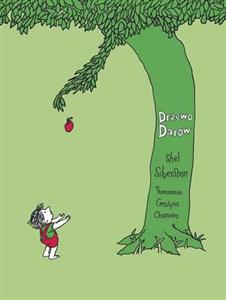 Drzewo Darow - The Giving Tree (Polish)
---
by Shel Silverstein
Once upon a time there was an apple tree that loved a little boy. This is how this sad story begins, written and illustrated by the multi-talented Shel Silverstein. Every day the boy would come to the apple tree, eat its fruit, swing on its branches or slide down its trunk ... And the apple tree was happy. But as the boy grew, he wanted more and more from the apple tree, and she kept giving him what he needed.
Była sobie raz jabłoń, która kochała małego chłopca. 
Tak zaczyna się ta zabarwiona smutkiem historia, napisana i zilustrowana przez wszechstronnie utalentowanego Shela Silversteina. 
Każdego dnia chłopiec przychodził do jabłoni, jadł jej owoce, huśtał się na jej gałęziach albo zjeżdżał po jej pniu... I jabłoń była szczęśliwa. Ale w miarę jak chłopiec rósł, chciał od jabłoni coraz więcej, a ona nie przestawała dawać mu tego, czego potrzebował.
Shel Silverstein stworzył poruszającą przypowieść dla czytelników w każdym wieku – wzruszającą interpretację daru miłości i pogodnej akceptacji tego, w jaki sposób druga osoba jest w stanie ten dar odwzajemnić.
Ages 3-8; Pages 48; Hardcover (19.7x26.0 cm)



---
Share this Product