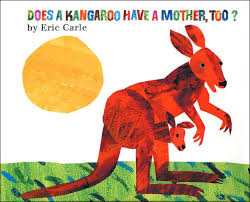 Eric Carle in Arabic: Does a Kangooro has a Mother, too? (Arabic)
Language
Arabic
Descriptions
by Eric Carle 
"Yes! A kangaroo has a mother. Just like me and you." Tremendously popular author/illustrator Eric Carle needs no introduction. Readers wait eagerly for every new picture book--and nobody will be disappointed with this one. In this Very Simple story, an unseen child asks variations on the same question: "Does a lion/monkey/dolphin have a mother, too?" The response is always the same: a big colorful "YES!" with the soothing reassurance that, "like me and you," everyone has a mother. Repetition is the name of the game, here, because nothing comforts like reiteration.
Review:
"I am a big fan of Eric Carle's books. So, when I found this book in Arabic, I got it right away. Because I had a difficult time finding good Arabic books for my daughter, I always try to describe both good and bad things, with stress on the bad (just, cause I had specific needs in the books I get).
- This book is meant to teach about Animals (really mammals)- It is really awesome that this book is written with ALL the diacritical marks (tashkeel), which makes it an awesome book for kids who are learning to read and write
.- It is rather Lebanese oriented Arabic (like most books in the market), so the animals have Lebanese names, not classical Arabic nor Egyptian (my dialect of choice). Not such a big problem, when reading to your child, cause it is an easy alteration.
- It is a very simple book, with on paragraph repeating on every page, with the change of animal.
- on the plus side, you get at the end of the book, the name of the baby animals, the female and male when applicable and what the herd is called. This is really fun information."
Ages 3-8; 32 pages, Paperback
---
Share this Product
---
---
More from this collection