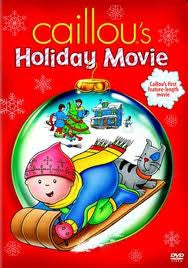 Caillou's Holiday Movie -DVD (English, French, Spanish)
Language
English
French
Spanish
Descriptions
Caillou's Holiday Movie DVD - Celebrate the 12 days of Christmas with Caillou and his family. In English, French and Spanish - over 90 minutes.
Caillou receives a special advent calendar from his parents to count down the days until Christmas, and each night Caillou and his parents open a flap to discover a new picture of a holiday celebration somewhere in the world. As the family talks about different Christmas traditions, Caillou learns that a young boy in Germany started the tradition of the Christmas tree, that English school children made the first Christmas cards, and that Christmas stockings (and shoes) figure prominently in holiday celebrations in France and Hungary. He also learns about Hanukkah and the lighting of the Menorah from his friend Leo. As Caillou and his family enjoy their own holiday traditions, they discover the universal importance of giving and sharing.
Music, including eight original songs, abounds in this program with over 90 minutes of frosty fun and eight new songs. Unlike more typical Caillou episodes, there are no animated segments focusing on the interactions between Teddy, Rexi, and Gilbert in this presentation nor does Caillou find much to whine about in this festive season. DVD extras include an interview with Caillou, a holiday sing-along, and six challenges.
Ages 4-12; 90 minutes DVD (Formay NTSC, region 1).
---
Share this Product
---
---
More from this collection