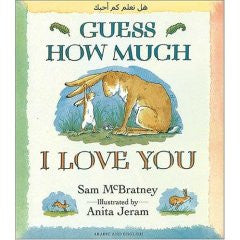 Bilingual Arabic: Guess how much I love you (Arabic-English)
---
by Sam McBratney
All children want reassurance that their parents' love runs wide and deep. In Guess How Much I Love You, a young rabbit named Little Nutbrown Hare thinks he's found a way to measure the boundaries of love. In a heartwarming twist on the "I-can-do-anything-you-can-do-better" theme, Little Nutbrown Hare goes through a series of declarations regarding the breadth of his love for Big Nutbrown Hare. But even when his feelings stretch as long as his arms, or as high as his hops, Little Nutbrown Hare is fondly one-upped by the elder rabbit's more expansive love.
Anita Jeram's illustrations are bound to elicit an "aw" from even the sternest of readers; these loving rabbits are expressive, endearing, and never cloying. In turn, Sam McBratney tells a simple bedtime story of sweet familial love with humor, insight, and a delightful surprise at the end. Children and parents will love snuggling up for this one--a treat to be read again and again, just before the lights are turned out.
"This book is good,but just cause I am so desperate for good Arabic books to read to my daughter. I thought that the story was cute, but not too much. I didn't like the idea that the Arabic part of the story seems to be secondary since the book starts from left to right (wouldn't want to teach my kid that it's ok to read Arabic the wrong way). The Arabic is classical Arabic, so one can't really go wrong there (but my 2 year old daughter lost interest quickly since she found the Clasical tone odd). She loved the rabbit though and kept telling me about them. So it is a good book considering the availability of simple books in Arabic for young children. "
Ages 4-8; 32 Pages; Hardcover 
---
Share this Product
---
More from this collection