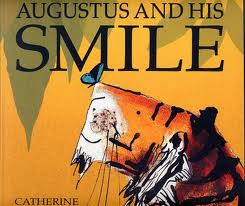 Augustus and his Smile (Vietnamese-English)
Language
English
Vietnamese
Descriptions
Winner of the Best New Illustrator Award in the BOOKTRUST EARLY YEARS AWARDS 2006 Shortlisted for the CILIP KATE GREENAWAY MEDAL 2007
by Catherine Ryner.
Augustus, a Siberian tiger, was sad. He had lost his smile. So he set off to find it. He climbed to the tops of the tallest trees. He scaled the crests of the highest mountains. He swam to the bottom of the deepest oceans. He pranced through the deserts... And he raced as raindrops bounced and flew. When he splashed through the puddles, he saw his own smile under his nose. And he realized that his smile would be there, whenever he is happy. In this remarkable picture book, simple happiness is celebrated when we open our eyes to it. In Vietnamese and English in parallel on each page.
"A remarkable book which celebrates the beauty of the world."
"…the real star of this impressive debut is the illustration. A page for page, this has a better feeling for tigerishness of a tiger – how it swims and climbs and makes a HUGE tigery stretch than a whole chapter of natural history books…This will make children care."
 

 The Independent
Ages 4-8; 32 Pages; Paperback
---
Share this Product
---
---
More from this collection