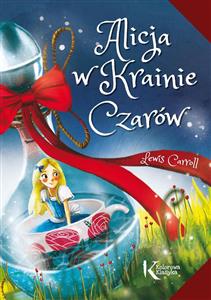 Alicia w Krainie Czarow - Alice in the wonderland (Polish)
Language
Polish
Descriptions
by Lewis Carroll
Alice in Wonderland in the Colorful Classic series is the most beautiful colorful edition of this novel on the market! The book contains wonderful, colorful illustrations, its advantage is a large font that facilitates quick reading. Edition on fine paper, very durable and aesthetic.
Book in Polish by Lewis Carroll. Alicja w Krainie Czarów w serii Kolorowa Klasyka to najpiękniejsze kolorowe wydanie tej powieści na rynku! Książka zawiera wspaniałe, barwne ilustracje, jej atutem jest duża, ułatwiająca szybkie czytanie czcionka. Edycja na szlachetnym papierze, bardzo trwała i estetyczna.
Wskocz razem z Alicją do Krainy Czarów, posłuchaj dobrych rad Pana Gąsienicy, zatańcz kadryla z homarami i spróbuj nie stracić głowy dla Królowej Kier! A wszystko to w otoczeniu przepięknych ilustracji i u boku Kota z Cheshire, który naprawdę potrafi znikać...
Ages 4-8;  Pages 96;  Hardback (17.0x24.5 cm)
---
Share this Product
---