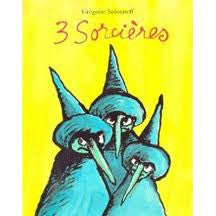 3 sorcieres - 3 witches (French)
Language
French
Descriptions
by Gregoire Solotareff
Three witches who never smile and who strike terror into those in the community quickly have their demeanor reversed when they encounter the laughter of two children.
"Three witches hyper endearing, an original story (finally!!) Must read for young and less young. Fantastic, a real card in my children (3 years 4 1/2 years and 7 years)."
The author, Gregoire Solotareff, was the recipient of the 2004 Hans Christian Anderson Award. Other awards include: Prix Bernard Versele (Belgium, 1987), Prix 1000 jeunes Lecteurs (1989), Rennes d'or d'Avoriaz (1989), Prix Sorcières, categorie tout-petits (1992), 1st prize for children's illustration at the Bologna Book Fair (1993), Deutscher Jugenliteraturpreis (1997), Prix des critiques de la CommunautÉ franÇaise de Belgique (1997).
Ages 4-8; 29 Pages; Paperback
---
Share this Product
---
---
More from this collection