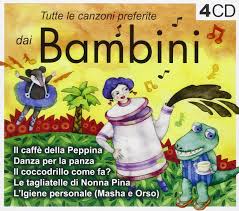 Tutte Le Canzoni Preferite Dai Bambini - Box4Cd (Italian)
Language
Italian
Descriptions
Some of the songs are: 
1 Il coccodrillo come fa; 2 Le tagliatelle di nonna pina; 3 Nella vecchia fattoria; 4 44 gatti; 5 Fra martino campanaro; 6 London bridge; 7 Pinocchio; 8 Il caffè della peppina; 9 Girotondo; 10 Mamma che buon profumino; ....and more.
"My son has been listening to him daily for months. It means that it is very beautiful even if I can't stand it anymore. But I must say that there are many songs that remind me of childhood. All the more classic ones."
Audio CD. 4 CDs 
---
Share this Product
---