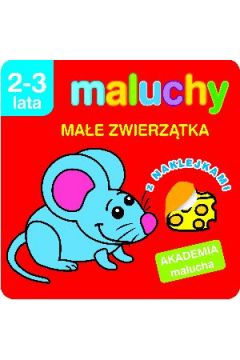 Maluchy: Male zwierzatka z naklejkami (Polish)
Language
Polish
Descriptions
by Anna
Little ones. Small animals with stickers is an educational proposal for children aged 2-3 years. Playing with the book develops perceptiveness, the ability to associate the image and cognitive emotions, encourages the recognition and comparison of elements, strengthens the hand muscles, as well as sharpness, coordination and logical thinking. The child develops spatial orientation and drawing habits, such as drawing different types of lines and mapping shapes. All tasks combine learning with fun. We hope that the book will be a valuable help in the process of early education, encouraging the child to discover the surrounding world.
"Maluchy. Małe zwierzątka z naklejkami" to propozycja edukacyjna dla dzieci w wieku 2-3 lat.
Zabawa z książeczką rozwija spostrzegawczość, umiejętność kojarzenia obrazu i emocje poznawcze, zachęca do rozpoznawania i porównywania elementów, wzmacnia mięśnie dłoni, a także bystrość, koordynację i logiczne myślenie. Dziecko wyrabia orientację przestrzenną oraz nawyki rysowania, takie jak kreślenie rożnego rodzaju linii i odwzorowywania kształtów. Wszystkie zadania łączą naukę z zabawą. 
Mamy nadzieję, że książeczka stanowić będzie cenną pomoc w procesie wczesnego kształcenia, zachęcając dziecko do odkrywania otaczającego świata.
Ages 1-4;  14 Pages;  Paperback (22.5x22.5 cm)
---
Share this Product
---
---
More from this collection