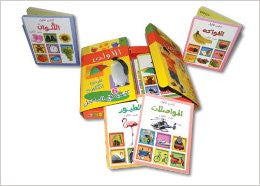 My first book set, part 1- 6 books (Arabic-English)
---
by Team of Authors
This box contains 6 booklets with the following subjects:
Transportation

Birds

Colors

Fruits

My First Word

The Alphabet
This collection helps introduce the child to his environment and everyday life objects. It encourages children to understand the world around them and to acquire new vocabulary to contribute to the enrichment of their language. This book also features a lot of wonderful and attractive images, which makes the learning experience more enjoyable.
هذه العلبة تحتوي على 6 كتيبات بالمواضيع التالية: المواصلات، الطيور، الألوان، الفواكه، الألفباء و كلماتي الأولى.
تهدف هذه الكتيبات إلى تعريف الطفل بمحيطه من الحياة اليومية وتساعد الأطفال على إدراك العالم من حولهم وعلى اكتساب مفردات جديدة تُسهم في إغناء لغتهم. ويمتاز هذا الكتاب أيضاً بصوره الرائعة والجذابة التي تجعل التعلم أكثر متعة وتشويق.
Ages 0-4; 96 Pages; Paperback
---
Share this Product